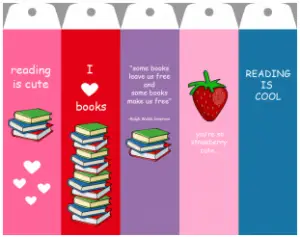 Use Free Printable Bookmarks with Your Favorite Books
Are you an avid reader? If so, you may have a number of different books started at once. When that happens, it is hard to keep your place in each book. Sure, you could turn down the pages, but as any bibliophile knows, that completely ruins a book. If you ever plan to sell your books, or if you just want to keep them in pristine condition, you don't want to fold down the pages. Bookmarks are the perfect solution – if only they were not so pricey! Although the bookmarks from the bookstore can be expensive, running $3.00 or more for a single bookmark, you do not have to pay those prices. You can get your bookmarks free from the free printable crafts section at PrintablesFree.com. Check out the other paper crafts while you're there. We offer free paper crafts, stencils, rulers and stationary, all free for the taking.
Free Printable Bookmarks to Give Away
Do you participate in a book club or reading group? Are you a reading teacher? We have bookmarks available in a variety of themes and colors that are perfect for giving out to friends, family and students. Teachers will find these especially useful because with many students in the classroom, you do not want to have to purchase bookmarks for everyone. That can get expensive and students are prone to losing such things. Free printable bookmarks are the perfect solution. You can print a few or a bunch all at once, in color or black and white. You can even use the customization tools to add pictures of your own or text. What student wouldn't love having a personalized bookmark with his or her name? Give them out as awards with the award name in the middle. You can use these colorful, simply designed bookmarks any number of ways in the classroom and in the home.
How to Make Your Free Printable Bookmarks Last
Teachers, if you're looking for bookmarks for the classroom, these free printable strawberry bookmarks are just the ticket. They come in red, two shades of pink, purple and blue, so you will have something for everyone. Five of these bookmarks print to a page. Each bookmark features a fun saying like "Reading is cute," "I love books," and "Reading is cool." Each bookmark has a hole at the top that can be punched out with a single hole punch. I would recommend printing them out in full color, laminating the entire sheet, cutting out the bookmarks, and then tying string or ribbon through the hole. These would make great gifts for the class on Valentine's Day or any holiday. They are also great for moms and dads to keep at home or give away as a treat present on Halloween. Who said that all treats have to be sweet? Keep them for yourself or share these bookmarks with others. Either way, they'll make reading books that much more enjoyable when you can hold your spot without damaging your books.