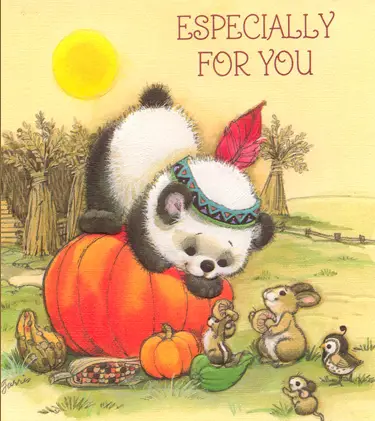 A Time to Give Thanks
Everyone's focused on Halloween right now, but the truth is, Thanksgiving isn't far away. In a little over a month, we'll be stuffing ourselves with turkey, sweet potatoes, dressing, gravy, rolls, and pumpkin pie. But that's not really what the holiday is about, is it? We get caught up in the dinner and how close we're getting to Christmas, but Thanksgiving is a wonderful holiday to be celebrated in its own right. Too often we forget to number the things that we're thankful for. We get stressed out with issues at work, problems with family, and the day-to-day grind that can make us feel weary. Most of us have too many blessings to count. Do you have a roof over your head and food in your belly? If so, you're doing so much better than much of the world's population. Be thankful. Show someone how thankful you are to have them in your life by sending one of our free printable cards.
Free Printable Thanksgiving Cards to Show Gratitude
Showing gratitude is easy to do; we just don't think to do it very frequently. Try sending one of our free printable Thanksgiving cards to a family member that you've not spoken to in a while. Write down a few of your favorite memories about that person. Put real thought into it — open up your heart. We all need touching reminders now and then that we've been important in someone's life. Some other ways that you can create a memorable Thanksgiving card are to include some pictures of you, your children and your pets, pictures of you with that family member or perhaps even a poem or a funny story that sticks with you that reminds you of that person. It doesn't matter if you're not good with words. It may sound cliche, but it really is the thought that counts. From turkeys, to pumpkins, to flowers, to leaves, you're sure to find a design that pleases your eye and touches your heart.
Free Printable Thanksgiving Card for Kids

Do you want to tell your child, a niece, or a nephew how grateful you are to have him or her in your life? This printable pumpkin patch Thanksgiving card is just the ticket! It features a cute panda, some bunnies, birds, chipmunks, and pumpkins in an adorable Thanksgiving display. On the front, it reads, "Especially for you." Doesn't that sound wonderful — a greeting that's especially for you? Kids don't often receive greeting cards on Thanksgiving Day, so this will come as a delightful surprise when you present them with your cards. For each year of the child's age, write one thing that you're grateful for. It can become a tradition! When the child is five, he or she will find five things you're grateful for about him inside the card. When he's 10, he'll get a long list of 10 grateful things. It may even encourage your child to make his cards for giving thanks and showing gratitude.