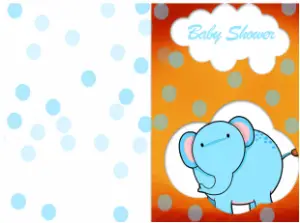 Free Printable Baby Shower Invitations for Any Color Scheme
A baby is on its way. How exciting! There's nothing quite like the anticipation of waiting nine months or more for that little bundle of joy. The buzz and excitement surrounding the mom to be are contagious. There's so much planning to do! From picking out a crib, a playpen, what type of diapers to use and more, the number of decisions to make can be overwhelming for a new mom. As the host of her baby shower, though, the decision is easy – at least when it comes to baby shower invitations. You don't have to worry about buying those cookie-cutter, overpriced invitations in the store. Make custom invitations for the glowing mama and her precious bundle of joy. You can find baby shower invitations and more in the free printable invitations section at PrintablesFree.com.
Free Printable Baby Shower Invitations for Coed Baby Showers
Baby showers are not just for moms-to-be anymore. Let the dads join in on the fun! Throw a party for the couple together, and use these free printable baby shower invitations as a start to throwing a terrific party. Not sure of a theme yet? Look at these cards to spark your creativity. How about elephants, flowers or storks to help celebrate the special day? You can customize these invitations with your own text, too. Add information about where the couple is registered for baby items by using the customize tool.
Free Printable Baby Shower Invitations for an Elephant Themed Shower
The only thing cuter than baby elephants are real babies! J You'll think so too when you customize and download this free printable baby elephant shower invitation. Use this for the inspiration for your party's themes. Elephants and polka dots make a great match. Purchase small stuffed elephants to sit on the tables for decoration. Sprinkle the table with round blue confetti; use pink if the baby is a girl. Use these cards for games, too. As you know, an elephant never forgets, but your guests might! Create a card of facts about the mom and the dad. Ask your guests to write down the answers to the questions for each of them. When you call out the answers, the guest with the most correct answers will win a door prize. You'll see just how much your friends and family remember about you when you play this game. Another cute game if there are small children at the shower is pinning the tail on the elephant. Don't forget to have someone on hand to create balloon animals, too. An elephant-themed cake will be the hit of the party. You can even take this card design to a cake decorator to have them replicate the design of the elephant. It's easy to do these days; it can even be printed in edible ink. There are so many ways that you can carry the elephant them through the shower; let your imagination run wild!