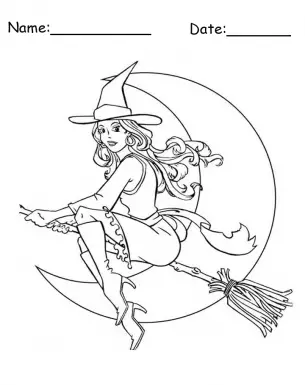 Have a Wicked Good Time with Free Printable Halloween Coloring Pages
Parents and teachers, take note! If you're looking for Halloween-themed activities for your students or children, we have plenty of them available at PrintablesFree.com. Our worksheets, coloring pages and other holiday related activities will continue to grow through the month of October, so check back frequently for updates. In the meantime, visit our free printable coloring pages for awesome coloring sheets to keep your child busy while waiting for appointments or traveling in the car. Kids can be a lot of fun, but parents need quiet time occasionally! These activities help parents and teachers get the peace and quiet they need while still allowing children the opportunity to be creative and have fun. Print out as many sheets as you need. They're all 100% free and customizable!
Celebrate the Fun of Halloween with Our Free Printable Halloween Coloring Pages
There are few holidays that are as magical for kids as Halloween. What's not to love about dressing up in fun, spooky or scary costumes and asking for treats? It's the perfect opportunity for socializing with other parents and children. In the meantime, though, while you await Halloween, you have to deal with an increasingly excited child! Provide a creative outlet for all that excitement using our free printable Halloween coloring pages. Coloring is a wonderful activity to allow children to express themselves. They can do this through their coloring technique including the colors they use to complete their pages as well as the manner in which they color. Be sure to display your child's creations proudly on your family's bulletin board or the refrigerator. They'll help add to your fall and Halloween decor!
Free Printable Halloween Coloring Sheets Provide Hours of Family Fun
What many people don't realize is that coloring is a wonderful activity to do together as a family. It's quiet yet fun and provides plenty of time for talking and reflection on the days events. It can be done before or after dinner to help everyone unwind for the evening. Print out the same Halloween page for each family member. The witch Halloween coloring page, for example, should be colored by everyone in the family one evening. Once you've all finished your pages, compare them to see what the similarities and differences are. You can even have a fun contest where you vote on your favorite coloring page, and the winner can get a small prize. The prize can be anything from a special treat or an evening free of chores. Spending time with your children is so important as they grow up, so use coloring as one of the ways that you do that. Want to customize the coloring sheets before you print them out? Just click the "Customize" button before printing. A message like "You bewitch me!" will make the recipient giggle. You can also add fun facts about witches, a made up spell or any other text that you'd like. Have fun with it!