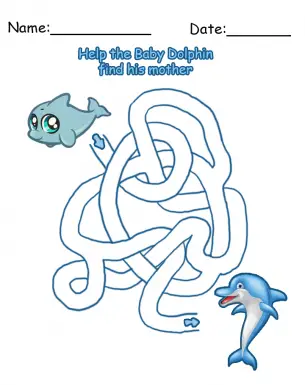 Free Printable Mazes for Family Fun Night
Too often, we forget about having fun together as a family. Parents seem to be working later hours because they bring work home with them, and children have loads of homework these days. It's no wonder we can hardly find time for fun! It's important to spend quality time with your family, though, and one of the ways you can do that is by having a family game night. Don't worry, you don't have to go out to the store and purchase expensive board games. At PrintablesFree.com, we have plenty of free printable games and activities that will be a hoot at your family game night. Like all of our printables, the games are absolutely free. This means that you can print as many as you'd like. Have a game marathon! Whether your family members are bookworms with extensive vocabularies or maze masters, we have games here to suit almost everyone.
See If You Can Figure Out Our Free Printable Mazes
Do you pride yourself in being able to get out of even the trickiest of scenarios? You may be surprised to find that some our mazes stump you! We have mazes for all different levels from simple to quite complex. Unlike other mazes with boring rectangular or circular designs, we take mazes to the next level! You'll find mazes in the shape of ice cream sundaes, cowboys, horses, hearts, flowers and more. They're unlike any other that you'll find on the other sites. These are wonderful printable activities to take along when you anticipate that your children may be a bit rowdy. Keep them quiet during a long car ride or a visit to the doctor or dentist. Give them a quiet activity to complete while you put dinner in the oven or make a batch of cookies. These free printable mazes can entertain even the most active children by providing a fun, stimulating activity that can be completed quickly.
Free Printable Mazes for the Classroom
Mazes aren't just for use in the home. They make great classroom activities as well. Do you need to give your students a productive activity for those times that they finish their assignments early? Use our mazes! the dolphin maze printable game is sure to be one that the kids love.The goal is to help the baby dolphin find it's mother. It can be a standalone activity or function as a fun task for a larger unit on dolphins. Although the printables are designed in color to be bright, colorful and engaging, you can print them in black and white if you need to conserve your color ink. This can be accomplished by setting your printer to grayscale or black and white. If you'd like to add some fun facts to the bottom of the page, you can do so by using the customization tool. It allows you to add text and pictures, so customize away!