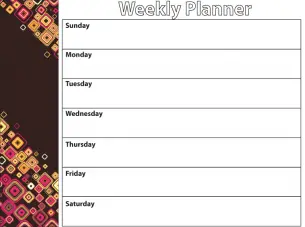 Free Printable Weekly Calendars for Parents, Students and Teachers
It seems that our responsibilities are growing larger every day. With the increased responsibility, many people are having a more difficult time keeping up with what they've committed to. At PrintablesFree.com, we know how frustrating it can be to manage life at work, at home and with kids' schedules; that's why we created our free printable calendars. Whether you need a simple monthly overview, a weekly glance or a detailed daily schedule, we have a calendar that will suit your needs. They come in a variety of styles, colors and layouts. Our weekly calendars are particularly popular for those that need more than just a monthly calendar but do not have enough regular appointments to keep a daily schedule filled up. If you're not sure which calendar would be best suited to your needs, print out several to try. The beauty of our calendars is that they're absolutely free, and you can print one whenever you need to. This can help you avoid the unnecessary costs of planners and calendars from the store where they're notoriously overpriced.
Stay Ahead of the Game with Free Printable Weekly Calendars
Are you wondering how a calendar can help you stay on top of all your commitments? If you're not accustomed to using a calendar, it can seem like a bit of a pain, but it's not. Once you make calendar use a habit, you'll wonder how you ever lived without one. Essentially, using a free printable weekly calendar frees up your brain to be used for other things. To clarify, when you have to count on your memory to remember appointments, meetings and other obligations, you have to constantly bring those to the forefront of your mind for the memory to stick. If, however, you just write down your appointment in your calendar, you can forget about it. Why? Because you'll see it when you review your calendars each week. During any given week, you should review your calendar for the current week and the next week so you can prepare for what's coming up. In this way, you'll ensure that you never forget an appointment or show up unprepared for a meeting again.
Free Printable Weekly Calendars for Home or Work
Our weekly calendars come in many different styles and are suitable for use at home or work. You can print out single sheets if you'd like and place them in a three ring binder or folder to be reviewed each week. We recommend a binder for most people because you can go back and review your past appointments, meetings and projects if needed. You can also easily flip forward to see what your commitments are in the near future. This helps you stay prepared in all aspects of your life. The printable Geo print weekly calendar is a favorite on our site, and you can see a preview of this lovely calendar in the picture above. If that design doesn't suit you, we have plenty more and are adding new calendars all the time. Bookmark our page and check back frequently for updates!