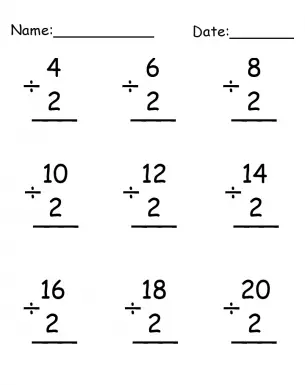 Teach Division with Free Printable Worksheets
Teachers, are you planning an upcoming unit on division? Finding interesting, engaging resources for division practice can be a challenge. There are plenty of worksheets out there, but many are dry, dull and just plain boring. And if they're not, they're much too complicated for younger students. At PrintablesFree.com, we try to bring you worksheets and lessons that will keep your students interested, because when they're interested, they'll learn. We have many different types of free printable worksheets, and the topics range from handwriting to time to preschool and fractions. We're adding more worksheets all the time, so be sure to bookmark us and check back often for new, fun worksheets to use in your classroom.
Use Free Printable Division Worksheets to Learn to Divide Like a Pro!
As they say, practice makes perfect. Although students may not be thrilled at the idea of practicing division problems, it truly is the best way to practice this skill. With 8 free printable division worksheets ranging in complexity, you can give your young students all the practice they need. It's such an important skill to master. If you can't fit these in as practice in the classroom, send them home with the children to let their parents help them improve on this skill. As you know, division is one of the foundations in math, and nearly all subsequent mathematics concepts will be built on the foundations of addition, subtraction, multiplication and division. We have worksheets available for the former categories, too, so take a look and print those out, too!
Divide by Twos With These Free Printable Division Worksheets
Dividing by 1 is a pretty simple concept for the students to grasp. For example, 6 divided by 1 is six because you need six individual things to make up a group of six. When you get into the 2s and 3s and higher numbers, however, that is where the confusion often begins. We aim to make the transition to division as easy as possible with this helpful division worksheet to teach students to divide by two. The numbers are kept small to help beginners; they only go up to 20. They're also consecutive starting from 4 and up to make this concept easy to understand. In addition to the worksheet, your students may need hands on items for a while to help them work out their problems. This is easy to do; bundles of chopsticks, pencils or pipe cleaners are particularly useful. In this case, you'll bundle your items in pairs. Ask the students how many pairs (or groups of two) it takes to get the big number. For example, 8 divided by 2 is four because it takes four of the pairs to make 8. Obviously, you can't do this with very large numbers, but by using this technique with the smaller numbers, the students will be better prepared to grasp more abstract concepts such as 88 divided by 2.