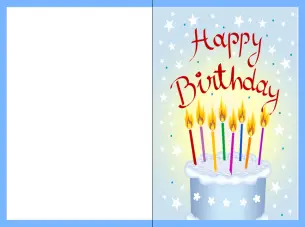 Save Money with Free Printable Birthday Cards
Do you have any birthday parties to go to this weekend? Although these parties and socializing with family and friends can be a lot of fun, it can also be draining on your wallet. It seems inappropriate these days to give a gift without giving a card, but cards from the stores can run several dollars or more. If you'd like to save a few bucks for birthdays or any occasions, give our free printable cards a try. We have cards for birthdays, thank you cards, anytime greeting cards, and cards for all the major holidays. You name it, we've got it! All of our cards are free to print, save and share. You can also customize each one by adding text, pictures or both. The customization tool is easy to use – just drag and drop your elements where you want them to go, and drag the corners to resize. You can rotate elements, too, if needed.
Free Printable Birthday Cards for Boys and Girls
Too many people these days leave it up to Hallmark, American Greetings or some other card manufacturer to come up with the wording for them. While others may express your thoughts better than you can, your loved ones would probably rather hear your feelings in your own words, no matter if they're ineloquent. We believe that cards should be very personalized, so all of our free printable birthday cards only have a design on the front. The inside will be blank so you can create your own message, right from the heart. If you find that the words just won't come to you, you can always do a search for wording for your particular occasion and type it right into the card. We offer a variety of designs and colors with choices appropriate for both boys and girls. Print out as many as you need so you'll always have one on hand, even for last minute parties!
Free Printable Birthday Cards Suitable for Everyone
If you're looking for a printable Happy Birthday card that's suitable for everyone – boys, girls, men, women, people of all ages – you're in luck. We have several that fit those requirements, and this Happy Birthday Card in particular is a favorite among our site's visitors. It features a light blue birthday cake with several candles on top and a pale blue, starry background. It simply has the phrase "Happy Birthday" on the front. It can be used for anyone, so make sure you print out several of them. If you want to customize the card, just click the customize button beneath the picture before you print. Use the "Add text" and "Add image" buttons to create a card that's all your own. Don't forget to check back with us when you need cards for other occasions. We have a huge, varied selection that only grows larger each day.