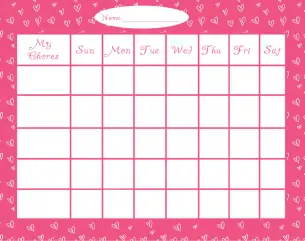 Teach Your Daughter Responsibility with Free Printable Chore Charts
As children get older, they need to take on additional chores in order to learn how to be responsible for their own things and for sharing responsibilities around the house. Of course, chores should be age appropriate, and you shouldn't give your child more chores than she can handle. If you're looking for ways to more easily integrate chores into your child's daily routine, we can help! We feel that our free printable activities section provides many valuable resources to parents, especially regarding chore chart templates. Take a look and find one that suits your child. While you're at it, look at the other printable activities, too. After all, it's important to have fun after your child has finished her chores for the evening!
Free Printable Chore Charts in Several Colors and Formats
Does your child prefer a simplified view of chores or a more detailed view? There's no right or wrong way to do it; personal preference plays a role. If you have a detail-oriented child, she may prefer the longer free printable chore charts. If she's always on the go and can't maintain focus for long, the shorter, simpler version may be more suited to her style. Try the different formats to see what works best for your child. Once you settle on a design, you can save the template to be printed again and again as needed.
Pink Free Printable Chore Charts
This pink chore chart printable is perfect for any little girl who loves the color pink. It is brightly colored and decorated all over with little white hearts. There's a column for chores along with columns for each day of the week, so it's perfect for keeping track of daily chores rather than occasional ones. There's room for listing five chores. We feel that this is an adequate number for a child of any age. For young children, keep the tasks simple like putting away toys and brushing teeth. Older children may be required to make their beds, take out the trash and wipe down the kitchen counters, for example. As mentioned above, make sure the chores are age-appropriate so that your child can easily complete them in under an hour each evening. They already have quite a bit of responsibility at school, so should not be overwhelmed with chores once they get home.
Tips for Printing Our Chore Charts for Kids
Do you want to print out a chore chart and reuse that same chart repeatedly? It's easy to do! Print your chart on thick cardstock or photo paper. Place the chore chart in a plastic sheet protector or laminate it if you have a laminating machine. Once that's done, use fine point dry erase markers to write down the chores every week. Your child can also make off her progress by using dry erase markers. At the end of the week, wipe it clean with a moist cloth, let it air dry, and start fresh.