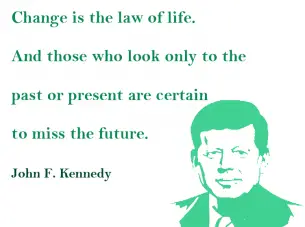 Positive Quotes About Changes in Life
When it comes to change in our lives, we are often reluctant to do what is needed or to make those changes. It's human nature, after all, to crave stability and to cling to the things that we know about. It's unhealthy, though, to expect that we can sail through life without ever making any changes. At PrintablesFree.com, you'll find a lot of advice from famous people about many different aspects of life, including quotes about change. Our free printable quotes and sayings section is full of smart, clever and inspirational quotes that can help you make the changes or transitions that you need to move on to the next phase of life. Print them out to hang in your home or office as a daily reminder that you have the strength inside you to do what you need to do.
Free Printable Quotes About Life
In the free printable quotes about life section, you'll find the famous words of people like Helen Keller and JFK, but you'll also find more modern quotes from Eminem (the famous rapper) and Jillian Michaels (the famous fitness guru). You don't have to be a philosopher in order to inspire other people to action. All of these quotes are designed with a decorative border to make them attractive and practical for hanging in your home or office. Just pick up a frame from your favorite store, or use one that you already have lying around!
Motivating Quotes About Change
As our former President said in this free printable John F. Kennedy life quote, "Change is the law of life. And those who look only to the past or present are certain to miss the future." That's good advice, and JFK was certainly an innovator and someone who looked toward the future with hope and enthusiasm. We can learn from his words as well as the words of others.
Here are more of our favorite quotes about change from some very wise people.
If you don't like something, change it. If you can't change it, change your attitude.
~ Maya Angelou
You must be the change you wish to see in the world.
~ Mahatma Gandhi
God grant me the serenity to accept the things I cannot change, the courage to change the things I can, and the wisdom to know the difference.
~ Reinhold Niebuhr
When we are no longer able to change a situation – we are challenged to change ourselves.
~ Viktor E. Frankl
A fanatic is one who can't change his mind and won't change the subject.
~ Winston Churchill
Everyone thinks of changing the world, but no one thinks of changing himself.
~ Leo Tolstoy
If you change the way you look at things, the things you look at change.
~ Wayne Dyer
The only way to make sense out of change is to plunge into it, move with it, and join the dance.
~ Alan Watts
Things do not change; we change.
~ Henry David Thoreau