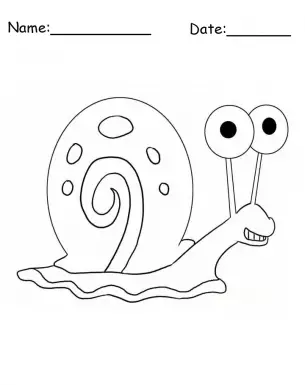 Free Printable SpongeBob Coloring Pages for Kids
Oh, who lives in a pineapple under the sea? SpongeBob SquarePants! If you don't know those lines, where have you been for the past decade or more? SpongeBob has been around for quite some time, and there's no denying that he and his underwater pals are favorites for young kids everywhere. If you're looking for SpongeBob freebies for the kids, look no further! PrintablesFree.com has several SpongeBob coloring sheets, and we're adding more to our collection all the time. Check out the free printable coloring pages with characters like SpongeBob, Squidward, animals, Disney characters, Batman and many different holiday coloring pages. You'll find everything you need when it comes to coloring right here.
Give Your Kids Free Printable SpongeBob Coloring Sheets
What is it about the series that makes it so popular? There are a couple of reasons why it's a fan favorite. First, it appeals to both children and adults alike. It's true! If you've ever sat down to watch the shows closely, you'll find that oftentimes the jokes are a bit too much over a child's head, but as an adult, you can appreciate the humor. The cartoon is also bright, fun, colorful and energetic – all things that kids love when they're watching cartoons. The series doesn't look to be slowing down anytime soon, so print out these free printable SpongeBob coloring pages and sit tight until your child outgrows the characters (if that ever happens).
Printable SpongeBob Coloring Pages for Fans of Gary the Snail
Gary is a personal favorite from the SpongeBob show. If you're not sure who Gary is, he's the snail with feline characteristics. His official name is Garold Wilson Snail, Jr., but he goes by Gary for short. On the show, instead of cats, characters have pet snails, so it's not unusual to hear a snail purr or meow. SpongeBob often refers to him as "Gar-Bear" on the show, a term of endearment for helping him keep a level head. This free printable SpongeBob coloring sheet features Gary at his finest. He's smiling his big smile, looking at you with those big googly eyes and just brightening your day. The design is simple with no background elements, making it perfect for children who are very young or even children with advanced coloring skills who are fans of the show. In addition to being a coloring sheet, it also makes a great tracing sheet so children can learn how to draw their favorite characters quickly and efficiently. Don't limit yourself or your children to crayons. Try using paint or glitter. Outline Gary in pasta, rubber bands or some other media. By using different media and textures, children can learn a lot about the world around them.