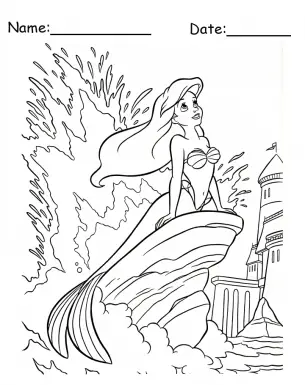 Disney Princesses Coloring Pages
Do you have a daughter, niece or student who loves Disney princesses? Ariel is still a favorite for many girls, and at PrintablesFree.com, we have several different princess coloring pages. Our Ariel pages are extremely popular and can be downloaded anytime, from the convenience of your home computer. Little girls don't tire of coloring their favorite princesses, after all. Coloring is a wonderful outlet for children, boys or girls. Boys like to color princesses, too! Our free printable coloring pages are for anyone – boy, girl, child or adult. You're never too old to color.
Disney Coloring Pages with Your Favorite Princesses
We have several different princesses for your little princess to color. There are two Ariel coloring sheets from famous scenes from the movie. The first is the scene with Prince Eric and Ariel together in the rowboat. The second is Ariel sitting on the rock. If you prefer another princess to Ariel, check out the Princess Jasmine coloring sheet or the page with Snow White, Belle and Aurora. There's something for everyone! We're adding new free printable Disney coloring pages all the time, so be sure to check back soon for more of your favorite princesses.
Ariel Coloring Sheets for Disney Fans
The Ariel coloring pages, especially the sheet pictured above is one of the most famous scenes in the Little Mermaid movie. It's where she sings "Part of Your World" after she meets the handsome Prince Eric. Print it out for your little mermaid for some fun coloring and quality mommy-daughter time today!
Quotes from the Little Mermaid
Are you looking for memorable quotes from the Little Mermaid movie to customize your coloring sheet before printing? Here are a few of our favorites!
The seaweed is always greener in somebody's else's lake.
Sebastian
Ariel, listen to me: the human world is a mess. Life under the sea is better than anything they've got up there.
Sebastian
I don't know when…I don't know how…but I know something's starting right now. Watch and you'll see…Somebody I'll be…Part of your world! (The song from the scene pictured above.)
Ariel
Don't be such a guppy.
Ariel
You've got your own style, now let it shine through, and remember no matter what, you got to be you!
Sebastian
Children have got to be free to lead their own lives.
Sebastian
Go on and kiss the girl.
If everybody got somebody by the hand, maybe everyone could learn to love and understand.
Sebastian
You're the one, the one I've been looking for.
Prince Eric
Who said that my dreams just have to stay my dreams?
Ariel
Fathers have to learn that daughters have to grow. And if you truly love them, you must let them go.
King Triton
We got no troubles, life is the bubbles under the sea.
Have you ever seen anything so wonderful in your entire life?
Ariel