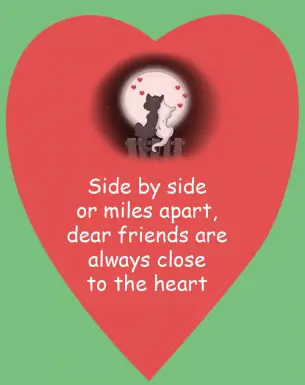 You've got a friend in me. At least, that's what we'd all like to think about ourselves – that we're good friends. The truth is, sometimes we could use a little advice about what it takes to be a good friend. Here, you'll find lots of free printable quotes and sayings about friendship. Check out the one to the left. You can print it out and hang it up on your wall or frame it and give it to a friend. It reads, "Side by side or miles apart, dear friends are always close to the heart." You can use these quotes to improve yourself to be a better friend or share them with a friend that means a lot to you. Remember, being a friend is just as important as having friends. You can't have one without the other!
Attributions are provided when known. All quotes without attribution are anonymous.
In everyone's life, at some time, our inner fire goes out. It is then burst into flame by an encounter with another human being. We should all be thankful for those people who rekindle the inner spirit. – Albert Schweitzer
Friendship is born at that moment when one person says to another: "What! You too? I thought that no one but myself. – C.S. Lewis
Don't walk behind me; I may not lead. Don't walk in front of me; I may not follow. Just walk beside me and be my friend. – Albert Camus
Good friends, good books, and a sleepy conscience: this is the ideal life. – Mark Twain
Friendship is the hardest thing in the world to explain. It's not something you learn in school. But if you haven't learned the meaning of friendship, you really haven't learned anything. – Muhammad Ali
Words are easy, like the wind; Faithful friends are hard to find. – William Shakespeare
The glory of friendship is not the outstretched hand, not the kindly smile, nor the joy of companionship; it is the spiritual inspiration that comes to one when you discover that someone else believes in you and is willing to trust you with a friendship. – Ralph Waldo Emerson
The best mirror is an old friend. – George Herbert
If you have two friends in your lifetime, you're lucky. If you have one good friend, you're more than lucky. – S.E. Hinton
No friendship is an accident. – O. Henry
Keep reading for more free printable friendship quotes!
A good writer possesses not only his own spirit but also the spirit of his friends. – Friedrich Nietzsche
Nothing makes the earth seem so spacious as to have friends at a distance; they make the latitudes and longitudes. – Henry David Thoreau
However rare true love may be, it is less so than true friendship. – Albert Einstein
The antidote for fifty enemies is one friend. – Aristotle
No matter how far you take it with your friends, whether you're fighting with them or you hate them for two months, you just really need them, because they're the ones who teach you the most about yourself. – Kate Hudson
You can make more friends in two months by becoming interested in other people than you can in two years by trying to get other people interested in you. – Dale Carnegie