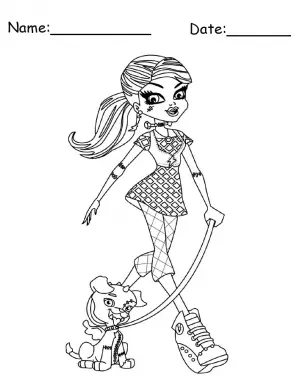 Get Free Monster High Coloring Pages
Are you looking for Monster High coloring pages to print? You'll find them right here at PrintablesFree.com. We have loads of coloring pages for your children, many featuring their favorite characters. It's fun to come home from school and unwind at the end of the day by completing a relaxing coloring sheet. Coloring is also a fun indoor activity to do with your child when the weather outside is dreary, chilly or downright terrible. Just because you're indoors doesn't mean that the fun has to stop. Visit our free printable coloring pages section for the latest and greatest coloring sheets for holidays, special occasions, favorite characters and fun themes. There's something here for every age and preference! The best part is that you don't have to waste money on coloring books that your child may or may not like. Just sit your child on your lap and browse the coloring pages together to get the ones you like. It's easy and fun!
Fun and Free Monster High Coloring Pages to Print
The Monster High franchise was created in 2010 and has become wildly popular ever since among young girls. They're different from your average fashion dolls because they are based on characters from sci-fi and horror movies. If your little girl likes these characters, you'll find two of the most popular ones in our Monster High coloring pages to print. Below, you'll find a brief synopsis of each character. Check back on our site often or sign up for the newsletter to be altered to new, fun printables.
Frankie Stein Monster High Coloring Pages to Print
Frankie Stein is one of the original Monster High characters from 2010. She is the daughter of Frankenstein and his bride. Her body is held together much like Frankenstein's – by neck bolts and stitches. She has black and white hair, is a bit clumsy, but is overall very kind and polite. She's very fashionable and is often seen with her puppy, Watzit. You can find the Frankie Stein coloring page here.
Clawdeen Wolf Monster High Coloring Pages to Print
Clawdeen is another of the original characters. She is the daughter of a werewolf and has an older brother and two younger sisters. She is fifteen years old, covered with fur, has her wolf ears pierced, and has a black cat named Crescent. It is said that Clawdeen has many other brothers and sisters, but the two mentioned here are part of her litter. There are many other litters of the werewolves. You can find the Clawdeen Wolf coloring page here.
Now that you have a couple of Monster High coloring pages to print, it's time to surprise your Monster High fan with them! Although you can use crayons, these are perfect for using markers, too, because of the bold and fun colors that the franchise is known for. Markers produce a richer color than crayons and colored pencils do. Enjoy!