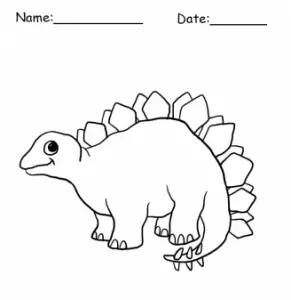 Free Printable Coloring Pages for Children of All Ages
Do you have a child who loves to color? It's was always one of my favorite activities as a child. I prided myself on my ability to stay within the lines and color a quality picture. Of course, not all children are as choosy as I was. There's nothing wrong with coloring outside the lines, after all. Some of the most creative types in the world never colored inside the lines when they were children! Finding coloring books with your child's favorite themes or characters can become expensive, especially since children are prone to losing such things. Rather than paying for entire books, print out a few sheets at a time using the free printable coloring pages at PrintablesFree.com.
Fun and Free Printable Coloring Pages for Kids
You won't find the same boring coloring pages on this site that you find on others. These are specifically designed to offer simple designs which encourage greater creativity. We have a variety of images available from fruits like mangoes, apples and bananas to animals like birds, koalas and dinosaurs. Encourage your child to make each picture his own by thinking outside the box when coloring. Use crayons, colored pencils or even paint to add color to these images. They're great to use with a variety of media to create a special project for your little one. Don't forget to give your child's creation a place of honor on the refrigerator. Kids take pride in their work when their parents display it proudly in their home. Print out several of these free printable coloring sheets to keep on hand whenever creativity sparks in your child.
Free Printable Coloring Pages Featuring Dinosaurs
What child doesn't like dinosaurs? These dinosaur coloring pages are friendly in appearance so that young children are not frightened by the images. They're perfect for teaching your child a lesson about history or dinosaurs, but are also fun enough that they'd look great framed and hung up in the child's room. PrintablesFree.com offers pages for Tyrannosaurus Rex, Triceratops, Pterodactyl, Brontosaurus and more. One of the favorites among those pages is the free printable stegosaurus coloring sheet. It is a cute image with a friendly-looking stegosaurus, the dinosaur known for all the plates along its back. Children can color the dinosaur according to the natural colors they'd be found in nature back in the prehistoric era or can use their imaginations to color them any way they'd like. These designs are simple enough that they can be colored and easily cut out to place on pencil boxes, memento boxes or photo albums to make them personal and fun for your child. Each coloring sheet has a space at the top to write the child's name and date. You can also crop and customize the image to your own liking. Perhaps you'd like your child's typed name underneath the dinosaur, or a letter of your child's name in each plate along the dinosaur's back. You can do all this and more with the customization tool.