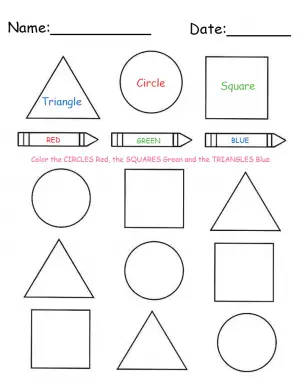 Free Printable Classroom Lessons for Your Kindergarten Classroom
Teaching Kindergarten can be exhausting work. Those little ones have quite a bit of energy, and at the beginning of the school year, they haven't quite mastered the routine of being in school for most of the day. This can lead to teachers becoming tired and feeling overworked. While we can't do anything to tame your students, at PrintablesFree.com, we have tried to create resources that we think will be valuable in the Kindergarten classroom. Check them out, especially our free printable lessons category where you'll find worksheets of all types that you can use to teach your little ones. We aim to create resources that are fun and engaging, and we hope that your students find them to be so.
Kindergarten Worksheets for Teaching Basic Concepts
Whether you're working on the names of animals, practicing forming the letters of the alphabet or trying to learn colors and shapes, we have worksheets in our free printable classroom lessons that can help you get the job done. It can be difficult scouring the web for the printables that you need for home and work, but we want to be your one stop shop for printables. Well, you may not want to use the term shop since all of our printables are absolutely free. That's right; you'll never pay a dime to use our resources for teachers, parents and students. From throwing parties to planning your lessons for the week, our printables are unmatched. We're adding new categories and printables all the time, so sign up for the newsletter or bookmark our site to stay tuned to the latest updates.
Learn Colors and Shapes Using Our Kindergarten Worksheets
Who says that multitasking is for adults? We've combined learning shapes and colors into one fun printable. Our kindergarten worksheets are all designed to be fun, but the coloring shapes printable is a favorite download among the printables on our site. The directions are simple. Students are to color the circles on the page red, the squares on the page green and the triangles on the page blue. There's a section for the child's name and date at the top, though if it's early in the school year, your students may need assistance with those things. They'll also need to have a basic understanding of at least those three shapes and know their primary and secondary colors. Of course, you could color the top row of shapes to show them how it's done. This may clear up any confusion about which colors go with which shapes. Once the worksheets are complete, these can be an excellent resource for your students to refer back to later in the year. If you don't have time to complete the worksheet in class, send it home to complete with the parents. It's an easy activity that will only take a few minutes, but can get the parents involved in their child's education.