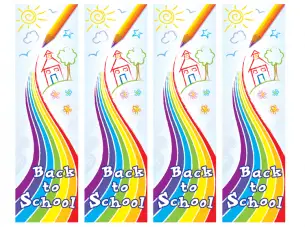 Bookmarks for Young Students
Now that classes are in full swing, your students are going to need a way to hold their place in their textbooks. Bookmarks are a great way to do that, and there's no need to go to the store to purchase an overpriced bookmark. Here at PrintablesFree.com, we have a varied selection of back to school bookmarks. Some have quotes, some have fun designs and others are specifically designed to get your students motivated for the classroom environment. There are several bookmarks per page to ensure that you don't waste any paper. What are you waiting for? Check out our free printable crafts to select some bookmarks for your students today. They'll enjoy getting these little gifts, and you can rest easy that if a bookmark is lost, you can simply print another. If you want some tips on making the bookmarks last longer, keep reading!
Keep Your Place with Free Printable Bookmarks
Bookmarks aren't just for students of course. Anyone who loves books and loves to read can benefit from having a handful of bookmarks around. Many of us have several books lying around the house that we're reading at once, so this ensures you don't have to keep track of page numbers or risk ruining your books by folding down the pages. If you want your free printable bookmarks to last longer, here's a little tip. To start, print the bookmarks on thick cardstock. Use your printer's highest quality settings, too, so that you get bright and vivid colors on your bookmark. Once it's printed, laminate the bookmarks! You can laminate them one at a time by cutting them out first or laminate the entire sheet and then cut them out. If you want one that's waterproof, though, you'll definitely need to cut the bookmarks out first and laminate them individually.
Gift Ideas for Book Lovers: Free Printable Bookmarks
When it comes to buying for booklovers, it can be both easy and difficult. If you live with that person, for example, it's easy to know which books they have already to avoid buying duplicates. For other people, it's not that easy. That's why giving a book related gift is so great. You can still acknowledge their favorite hobby and give them a useful gift all at the same time. Below are some gift ideas you may find useful.
Care Package for College Student
If you have a child, relative or friend in college, care packages are a very welcome gift! In your care package, you can include the usual snacks and toiletries, but don't forget to throw in some fun gifts, too. This printable back to school bookmark is sure to make them smile. It's reminiscent of elementary school, and that's part of the fun.
Gift Basket for a Book Lover
For the book lover in your life, put together a basket with some of the free printable bookmarks, a gift card to the recipient's favorite bookstore, a blanket (for curling up on the couch to read) and a book light.