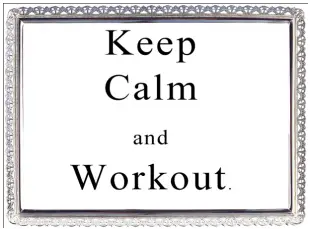 Free Printable Motivational Quotes to Get You Moving
Need a kick in the rear to get you in the mood to exercise. Let PrintablesFree.com do it for you! Not literally, of course. Sometimes, we just need a little boost from some inspirational and motivational quotes. As you know, words carry a lot of power. They can cause us to act, even when it comes to going for a run on the treadmill or doing an extra set of bicep curls when we really want to sit on the sofa and eat popcorn all evening. If you're looking for a verbal kick in the pants to get going, check out our free printable quotes and sayings.
Work It Out with These Free Printable Motivational Quotes
Everyone needs help staying motivated now and then. No one is on their A game all the time, but that doesn't mean that you should let yourself slack off. When you feel down and unmotivated, look for free printable motivational quotes and success stories to get you pumped back up. Sometimes, all it takes is a few words of encouragement from someone who's been there and done that to remind you of why you are working toward your goal. When you find quotes that you like, print them out! Put them near your workout space, on your bathroom mirror, on the refrigerator or by your desk at work.
Keep Calm and Workout with These Free Printable Motivational Quotes
We've all seen those "Keep Calm" posters and signs. They're catchy and fun. Most of all, they can motivate you to get up and workout with only a few words. This Keep Calm and Workout poster is designed with you in mind. Print it out and tape it up or put it in a frame to provide a constant reminder of how working out can provide you with inner peace.
Want to try a few more motivational quotes on for size? Below are some of our personal favorites.
Commitment means staying loyal to what you said you were going to do long after the mood you said it in has left you.
Wake up with determination. Go to bed with satisfaction.
There are seven days in the week, and someday isn't one of them.
Even a bad run is better than no run at all.
Excuses don't burn calories.
Don't stop until you're proud.
If you're tired of starting over, stop giving up.
Your body will do anything your mind tells it to.
Ask yourself if what you're doing today is getting you closer to where you want to be tomorrow.
If it doesn't challenge you, it doesn't change you.
Work harder. Eat better. Run faster. Feel stronger.
If you want it bad enough, you will find a way. If you don't want it bad enough, you will find an excuse.
Your body is a result of the choices you make.
No magic pill. No secret diet. No shortcuts. Just dedication.