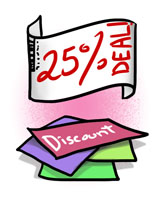 Frugal moms are experts when it comes to saving money. They know how to look for the best deals in stores and don't mind spending hours scouring the sales racks in order to avoid paying full retail price. That's a good start, but you can get even deeper discounts when you combine sales with coupons. At PrintablesFree.com, we work to provide you with valuable coupons that you can print right from your computer. These are coupons to your favorite stores, so you'll always be able to find something that you need. Not sure that coupons are worth the trouble? Here are some of the many benefits of using coupons to save money.
Stockpiling
If you have multiple coupons, it's a great time to stockpile on those items when they go on sale. Even if you don't have multiples, though, a coupon will allow you to purchase the item before you need it, ensuring that you have a backup to replace your current item. There's no need to subscribe to the Sunday newspaper or purchase it from a convenience store. These coupons can be printed right from your home computer and work just the same way as the newspaper coupons, except they're free! Check out our free printable Target coupons to find savings at this popular store.
Stick to Your Budget
Name brand products can often be too expensive for the usual household budget. Generic products are usually quite similar and much more affordable. With coupons, though, you can get the brand name products without the guilt. You don't have to worry about overspending when you use these free printable discount coupons to your favorite clothing stores.
Learn Sales Cycles
If you think that coupons are just issued randomly throughout the year, think again. All products, even fresh produce, go on regular sales cycles throughout the year. This includes clothing, electronics, back to school items, food, vehicles and more. While you may not find a coupon for a car, these free printable coupons can net you some significant savings on other common household and clothing items.
Money in the Bank
Perhaps the biggest benefit to saving with coupons is that you can take the money that you didn't have to spend and put it directly into a savings account. This can help build up your savings for your next vacation, for a new car or for emergencies. Even celebrities are getting in on the frugal act. Kirsten Bell noted on live television that she uses a lot of coupons, especially Bed Bath & Beyond coupons. Frugal is the new chic!
You don't have to become one of those extreme couponers to reap the benefits of using them to save a few bucks. Perhaps you just want to save money on your favorite products or at your favorite stores. That still saves money! Who needs 100 tubes of toothpaste, anyway? Be practical with both spending and saving; couponing will help you do just that.