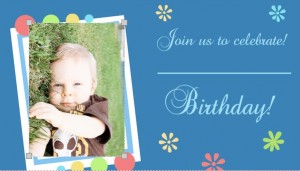 Throw a Frugal Party with Free Printable Birthday Invitations
If you're planning a birthday party, you're going to love the free printable invitations at PrintablesFree.com. There are invites for every occasion from birthday parties to graduation parties, even baby showers! There's no need to use the generic party invitations that you find in the stores. Those aren't memorable at all because there's no way to personalize them. Instead, use the printables available to you here. They're free, and there's a great selection available to choose from. Whether you like a playful or casual style, there's an invitation for you. They're easy to customize according to your own theme and preferences. You can add text, change the font or change the color of the wording, too. Upload a picture on your invitation so family members can keep it as a memento. You can even flip, rotate and crop the invitations to get the specific look you want to achieve. There are so many possibilities, so let's get started!
Free Printable Birthday Invitations That Will Knock Your Socks Off
If you're afraid to use free printable birthday invitations because you worry the quality may not be as good, think again! These invitations are professionally designed and will look great printed out from your computer. We have invitations for both boys and girls, and some are gender neutral and can go either way. For tips on getting great print quality, use medium-weight cardstock to print your invitations. Change your printer settings to the "best quality" option, which ensures there's more color per square inch. If you'd rather not use your color ink, you can also change your printer settings to print these in black and white. Don't touch the invitations as soon as they come out of the printer; give the ink a minute or two to dry, especially if you're using an old printer.
Blue Theme Free Printable Birthday Invitations
Are you looking for invitations for boys? Our free printable frame birthday invitations are wonderful for both boys and girls. If you'd like to print out the invitation first, you can do so and then cut out the inner section of the frame. You can then place a photo of your child behind the frame and use tape or glue to get the picture to stick. That's the hard way, though. The easy way is to simply add your child's picture to the invitation before you print it. You may need to flip the invitation around to be able to see it better. You can also rotate your child's picture to help it fit into the frame. Photos can be resized easily by dragging at the sides and corners. To maintain the photo's proportion, drag from one of the corners instead of the sides. Add your child's name or information about the party beneath the picture. The customization options are endless, enabling you to create an invitation that's truly your own. There are no cookie-cutter invitations here; you're only limited by your imagination.