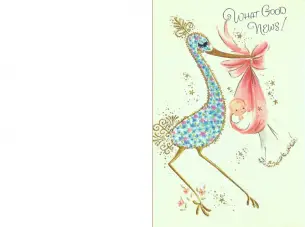 Welcome a New Baby with a Free Printable Baby Card
A new baby is a wonderful time in the life of the new parents and their friends and family. Once the little family is settled in, it's time to send a free printable card acknowledging their new little one! There are several ways to do this, but one of our favorites is by sending a delicious homemade dish along with your card. New parents will appreciate this gesture because they'll want to dedicate all their time to their little one during those first few weeks. New parents are also exhausted! Getting used to the demands of a newborn can be hard on the body, especially due to lack of sleep. Saving them a bit of time cooking will be very welcome. In addition to baby cards, at PrintablesFree.com, we also have cards for Thanksgiving, Christmas, birthdays, graduations, mothers, fathers and much more. Print out cards for the upcoming holidays while you're here so you won't have to spend a dime on those store bought cards!
Free Printable Baby Cards to Say Congratulations
Babies and parents have their own style, so we have created many different designs to accommodate those differences and characteristics that make each family unique. We have cards that are fun and playful while others are more sophisticated. Our free printable baby cards are appropriate for giving at a baby shower or after baby is here. You'll only find card designs here. We leave the wording entirely up to you so you can personalize the card to be as heartfelt as you'd like. That is the point of a card. Isn't it? Although the greeting card industry is big business, it causes people to think less and less about what they put into their greeting cards. Thoughtfulness is part of the process of sending a card, though, so taking a few moments to create a personalized greeting will be much better perceived than a generic greeting sent to all parents everywhere. Make it special!
Vintage Baby Congratulations Cards
If the new parents are traditional or just enjoy all things vintage, we have the perfect baby congratulations card for you. This lovely card features a multicolored stork carrying a baby in a pink sack. It's an adorable choice for welcoming a new baby girl. It looks just like a card that perhaps one of your grandparents would have received as a congratulations for one of their children. Although you can personalize this card with our user-friendly customization tool, we recommend handwriting your sentiments, particularly because of the vintage look of this card. It goes along with the style more. If you'd like to add something else special to your card, slip in a little note about offering a free night of babysitting. After a few weeks, many new parents will jump at the chance to have a little alone time or to get some rest.