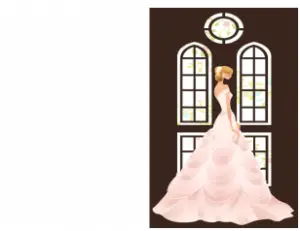 Save Money on Wedding Expenses with Free Printable Wedding Invitations
For those who plan to get married soon, the cost of a wedding these days may have come as a bit of a shock. Even $10,000 doesn't get much when it comes to a wedding, at least in some areas. However, you can find creative ways to stretch your budget so you can splurge on the other areas that are important to you. One of the easiest ways to save money is by making DIY wedding invitations. Now, that's easier to do than ever using the free printable invitations at PrintablesFree.com. Among the invitations, you'll find invites for birthday parties, showers, get-togethers, graduations and, of course, weddings. Don't forget to check out the party invitations to find a great selection of invites for your bridal shower, household shower, engagement party and more.
Free Printable Wedding Invitations for Many Themes
Have you settled on a theme for you big day yet? Some brides and grooms find choosing their colors easy while it's difficult for others to settle on just a few. Why not use our free printable wedding invitations for inspiration? Once the invitation is chosen, just continue that theme through the rest of your wedding décor! There are elegant themes featuring wedding rings and hearts. There are invitations that focus on the special role of the bride. There are also invitations that celebrate both the bride and groom together. These are favorites among our site visitors. Finally, those with a quirkier sense of style may enjoy the playful cartoon versions of a bride and groom; these invitations are sure to bring a smile to the recipient's face. Each invitation is completely customizable. Add text, pictures of the bride and groom and event details to the cards and print them out right from home.
Free Printable Wedding Invitations for Fall Weddings
Chocolate has become a popular color for weddings, especially those that take place in the fall. It's a very flattering color for most skin and body types and sets off the colors of the fall leaves beautifully. Here, you'll find a free printable chocolate brown wedding invitation that is perfectly suited for a wedding in the fall. On the front of the invite is a bride dressed in a beautiful light pink gown in front of stained glass windows. It is elegant yet casual, making it suitable for most types of weddings. Feel free to customize the invitation using the "Customize" button under the image. Add the initials of the couple in the upper left and right corners for a personalized touch, and add the details for the date, time and venue to the left of the picture. If you would like to use something more formal for the wedding invitations, these are still a great choice for the engagement announcement or Save the Date cards. The invitation will also look lovely in a frame for the couple to help them commemorate their special day.