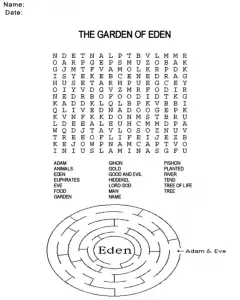 Use Free Printable Church Worksheets for Bible Study
Churches often run on a tight budget, so it's no wonder that congregations and Sunday School classes need to save money where they can. PrintablesFree.com makes it easy with the free printable worksheets we have available. We have worksheets specifically made for churches and Bible study. Because many churches also operate schools, you may also want to look at the other worksheets we have available. There are many different topics like preschool worksheets, kindergarten worksheets, and sheets available to improve math skills in addition, multiplication, subtraction, division, time, money and more. We have worksheets for a wide range of ages, so be sure to print out the ones you and your congregation need. All of the worksheets on the site are free of charge. Make as many copies as you'd like and distribute them freely.
Free Printable Church Worksheets for Religious Studies
Quality materials for Sunday School lessons and Bible study groups are hard to come by, especially when your budget is limited. That's why we made these resources available – to provide quality worksheets for parents, teachers, churches and organizations who may not be able to afford purchasing expensive worksheets from other publishers. These free printable church worksheets include crossword puzzles, word searches, questions and answers, mazes, code words and other fun activities. Each one is designed to familiarize the user with biblical terminology and concepts. Feel free to share these worksheets with your friends, too. They're great for church, but they also make waiting around at the doctor, DMV or post office a bit easier. Time flies when you're having fun, and these worksheets are definitely fun for those who are interested in the Christian faith. Sunday School teachers may enjoy finding the applicable verses that go along with the terms and definitions. This can easily be done by using your Bible's index or searching for appropriate verses online.
Learn About the Garden of Eden with Free Printable Church Worksheets
The Garden of Eden is where it all started if you're of the Christian faith. This is the first concept that any Bible reader learns about, so why not study it in depth from all angles. This fun printable word search church worksheet is designed around the Garden of Eden theme. It's actually two activities in one. The top portion of the worksheet is a word search, while the bottom portion is a maze. Children and adults alike will enjoy completing this worksheet. Word search terms include Adam, Eve, Euphrates, Good and Evil, and more. All the important concepts are covered here. Again, Sunday School teachers may want to find the appropriate verses for the vocabulary terms so students can make the connection between the activity and their biblical studies. This activity can be completed individually or in pairs or groups. It makes a great youth group activity, too, or a busy activity to keep the youth group quiet during a road trip.