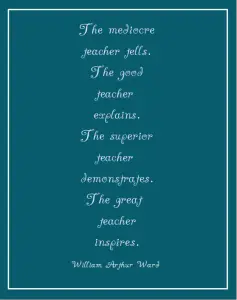 Get Inspired with These Free Printable Quotes and Sayings
Are you lacking inspiration in your life? It happens to the best of us. We go to work each day, come home, have dinner and go to bed. Rinse and repeat five days a week. When life gets humdrum, it's hard to stay motivated and inspired to be your best. Even so, your family, your friends and even your job deserve the best you have to offer. You don't want to be known as the person who always looked tired or looked like he was ready to throw in the towel. You want to be known as a caring, motivated person – a real go-getter when it comes to life. Sometimes, we need to look to the inspiring words of others in order to get the kick in the pants we need to move forward. With our free printable quotes and sayings, you'll find loads of inspiration, motivation and humor in our quotes about life, love and many other things. Print out your favorites to hang on your wall, near your desk at work or simply to share them with a friend.
Great Thinkers Provide Inspiration with Free Printable Quotes and Sayings
So, who are these great thinkers with words that were made to move us to action? Glad you asked. Some of the notable people we have in our free printable inspirational quotes selection include William Arthur Ward, Audrey Hepburn, Coco Chanel, Charles Darwin, Thomas Paine, tony Robbins, Ronald Reagan, Jim Elliot and Norman Vincent Peale. There are quotes about helping others, changing ourselves, praising teachers and more. You'll find the perfect quote to fit nearly any situation or personality in our ever-growing collection. All printables are customizable, so you can add whatever you like before printing it out.
Free Printable Quotes and Sayings about Teachers
School is back in session, and your children will hopefully be interacting with amazing, inspiring and creative teachers. If your child has a stand out teacher, consider telling him or her so. The perfect way to show your appreciation is by sending a small token or gift. This free William Arthur Ward printable quote is perfect for teachers of all types. It perfectly expresses how valuable great teachers are to their students and to the world. The quote reads, "The mediocre teacher tells. The good teacher explains. The superior teacher demonstrates. The great teacher inspires." How true that is! We've probably all had one or two teachers that did nothing but stand in front of the class and talk. Others were better, showing us how to do things rather than just telling us. But the truly inspiring teachers were the ones who inspired us to take action on our own, not because we had to, but because we wanted to learn, to grow and to become better people. Teachers like that deserve recognition. Print out this quote from PrintablesFree.com, frame it and give it to that special teacher in your child's life.